Full Time
This position has been filled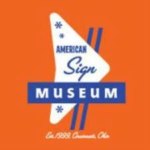 Website American Sign Museum American Sign Museum
American Sign Museum
Reports To: Development Director
Hours: Full-Time; Exempt Employee
Workdays: Flexible schedule to meet the needs of organization; evening and weekends may be required based on programming offerings.
Salary Rate: $37,500
Benefits: Fifteen days PTO; six paid holidays; health, dental, and vision insurance; employer contributions to HSA; free parking; and more.
The American Sign Museum (ASM) is seeking an experienced, results-oriented fundraiser with strong communication, interpersonal, and organizational skills for the Development Manager position. This detail-oriented self-starter will primarily be responsible for building and maintaining relationships with existing and prospective museum members with the goal of retaining and increasing their support as well as helping plan ASM fundraising events. This is a full-time position with a competitive salary and benefits.
Membership
Develop, maintain, and make recommendations for a comprehensive, yearly membership plan.
Create and execute yearly cultivation program.
Develop, plan, and execute member-only events as well as member-only incentives for general ASM events.
Responsible for acquisitions, renewals, and upgrades.
Administer membership benefits and acknowledgements.
Entry/gift processing in ASM donor database.
Special Events
Collaborate with the Development Director on the curation and execution of an annual signature event.
Engage and work with ASM staff and volunteers.
Serve as liaison between special events committee and ASM board and staff.
Ensure appropriate stewardship of gifts and completing the entire acknowledgement process for donors, including in-kind forms, thank you letters, auction receipts, letters to attendees and supports, etc.
Serve as the point person for marketing and public relations.
Create a post-event plan for continued stewardship of event attendees, sponsors, and donors.
Annual Fund
Manage the database list for annual fund campaign.
Assist in the design and strategy of appeal.
Monitor and track success.
Entry/gift processing in ASM donor database.
Other Duties and Responsibilities:
Some evenings and weekends are required to support museum programming and activities.
Work collaboratively with the entire ASM team.
Uphold a good working relationship with board, staff, donors, volunteers, and community sources.
Other duties as assigned.
Expectations:
The ideal candidate will have 3-5 years of professional work in fundraising, sales or related work in a nonprofit arts or culture organization. Experience assisting with a non-profit special event and managing a membership program is required.  Experience with CRM software is preferred, but not required.
The candidate should have excellent organizational skills with the ability to manage multiple projects, prioritize tasks, meet deadlines, and achieve goals.  Exceptional attention to details and follow through.
To apply:
Send resume, three references as well a letter of interest to hr@americansignmuseum.org with the subject "Development Manager – [Your Last Name]".  Applications are reviewed upon receipt and will be reviewed until the position is filled.  ASM seeks to begin this position ASAP. No calls, please.
Diversity, Equity, Inclusion, Access (DEIA) Statement
The American Sign Museum is committed to a diverse, inclusive, and equitable environment where all board leaders, staff, volunteers, and visitors feel respected and valued regardless of gender, age, race, ethnicity, national origin, sexual orientation or identity, disability, or education. The American Sign Museum is an Equal Opportunity Employer.