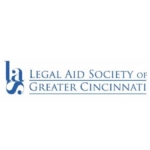 Website Legal Aid Society of Greater Cincinnati
Legal Aid Society of Greater Cincinnati
DIRECTOR OF ADMINISTRATION AND CLIENT SERVICES
Legal Aid is seeking a Director of Administration and Client Services to manage general office operations, staff recruitment, client services access, and administrative support. This position offers a committed, hardworking professional the opportunity to apply skills and talents in an organization that helps over 10,000 families each year. Legal Aid serves clients in Brown, Butler, Clermont, Clinton, Hamilton, Highland, and Warren Counties in Southwest Ohio. With two full-service law offices (downtown Cincinnati and Hamilton, Ohio), a budget of $10 million, and a staff of about 95, including 40 attorneys and 15 paralegals. Legal Aid is southwest Ohio's largest non-profit law firm. Our mission is to reduce poverty and ensure family stability through effective legal assistance.
This position is part of the senior management team and requires strong leadership and project management skills, commitment to diversity, equity, and inclusion, the ability to motivate staff, nurture lateral relationships, and communicate effectively with all levels of staff.
DUTIES AND RESPONSIBILITIES
Develop and implement strategies for client and community access to Legal Aid services.
Manage intake and reception staff.
Supervise and lead the legal support staff.
Recruit, interview, and hire administrative and legal support positions.
Coordinate recruitment and hiring for legal and advocacy staff.
Collaborate with Legal management to develop and implement on-boarding, training, and professional development activities.
Ensure implementation of DE&I, EEO, and Personnel Policies.
Facilitate communication and positive interaction between and among all Legal Aid Staff.
QUALIFICATIONS
The successful applicant will meet the following qualifications:
Bachelor's Degree in related field; advanced degree preferred.
6+ years of management/leadership in professional or non-profit organization.
Supervisory and teambuilding experience.
Experience with and conversant in Information Technology.
Strong interpersonal skills.
Organized and able to prioritize work.
Able to effectively coordinate and carryout multiple projects and responsibilities, and work ahead of deadlines.
Strong attention to detail and accuracy.
Ability to communicate effectively with a diverse staff, client population, and applicant pool.
SALARY AND BENEFITS
The salary for this position is $80,000 + DOE.  Legal Aid offers an excellent benefits package including contributions to pension, health insurance, and generous PTO.
HOW TO APPLY
Please email all of the following items to staffing@lascinti.org and note "Director of Administration and Client Services LAS068-23" in subject line.
A cover letter explaining the reasons for your interest in the position, your resume, names and telephone numbers for two work references (please do not send reference letters).  Interviews will be arranged by Employer.  Please do not call.  This position will remain open until filled.
The Legal Aid Society is an Equal Opportunity Employer. The Legal Aid Society offers reasonable accommodations in the hiring and employment process. If you need assistance, you may request an accommodation.