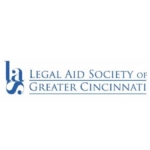 Legal Aid Society of Greater Cincinnati
Legal Aid is hiring a full-time Eviction Prevention Project Coordinator who will work with Legal Aid attorneys and community partners such as United Way, Community Action Agency, Strategies to End Homelessness, and other nonprofit partners to help families prevent the loss of housing. The focus of the position is to coordinate Legal Aid's services with a variety of program partners, and to help manage related grant reporting.
Activities include working with attorneys who defend tenants in eviction cases, accurate record keeping, and representing Legal Aid at meetings with funders and partners.
The Legal Aid Society's mission is to solve the serious legal problems of low-income people in our community, to promote economic and family stability, and to reduce poverty through effective legal assistance.
Legal Aid provides a full range of legal services to our client community. We represent clients in civil legal cases, and work with social services and government agencies, medical providers, and others to improve programs affecting low-income people.
Legal Aid has a total staff of about 95, including attorneys, specialized advocates, and administrative, technology, and development staff based in two offices (downtown Cincinnati, and downtown Hamilton, Ohio). This position is located in the Cincinnati office.
QUALIFICATIONS
The successful candidate will have:
At least 3-5 years administrative or project experience in a law office, nonprofit, government, or other office setting.
Excellent telephone and email communication skills
Proficiency with Microsoft Office products, including Excel
The demonstrated ability to handle multiple projects and handle deadline pressure
Experience working with diverse teams
Reliable transportation
Professional attire (business casual) is required
SALARY AND BENEFITS
Competitive salary starting at $24/hour + depending on experience, excellent benefits, generous PTO, and a professional office work environment.
APPLICATION PROCESS
Applicants should submit all listed items via email to staffing@lascinti.org with subject line Eviction Prevention Project Coordinator – LAS070-23:
A brief cover letter explaining the reasons for their interest in the position
A resume
The contact information for at least two professional references.
Interviews will be arranged by Employer.  Please do not call.  This position will remain open until filled.
The Legal Aid Society is an Equal Opportunity Employer.  The Legal Aid Society offers reasonable accommodations in the hiring and employment process.  If you need assistance, you may request an accommodation.