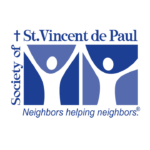 Website St. Vincent de Paul
Neighbors Helping Neighbors
Reports To: Vice President of External Relations
Hours: 40 hours/week with occasional evening and weekend hours
Location: Liz Carter Center, 1125 Bank Street, Cincinnati, OH 45214
Background: St. Vincent de Paul – Cincinnati (SVDP) has served residents of greater Cincinnati for over 150 years with basic needs assistance such as food, medicine, and homelessness prevention (rent and utilities) through the organization's Neyer Outreach Center in the West End and through 56 parish-based volunteer Conferences. SVDP provides holistic direct assistance and systemic change services while serving neighbors in need with dignity and compassion. In the past year, St. Vincent de Paul gave out more than $4.8MM in housing/utilities assistance, helped feed more than 90,000 individuals through our pantries, and provided more than 80,000 life-saving prescriptions to our neighbors in need throughout the Greater Cincinnati region.
Mission: A network of neighbors, inspired by Gospel values, growing in holiness and building a more just world.
Scope of Position: The Senior Development Manager is responsible for the strategic creation of and implementation of all components of the organization's gift processing, events/drives, grant funding, and planned giving. This position is a management position providing oversight, coaching, and mentorship to three development team members. Reporting to the VP of External Relations, this role works collaboratively with the Senior Marketing Manager, Giving Officer, and the team at the Outreach Center to maximize our impact through development efforts and events.
Salary Range: $70,000-$80,000
Job Responsibilities:
Oversee and support Events & Partnerships Manager, Gift Processing Coordinator and Grants Manager
Create and implement organization's Planned Giving strategies; manage individual donors who are in the Ozanam Legacy of Hope Society
Develop and oversee organization's grant calendar to ensure all grant proposals and reports are submitted in an organized and timely manner; cultivate and steward relationships with foundations/government funders; oversee and Grant Manager; review drafted grants and reports; write grants, as needed
Oversee all processes related to the donor database, act as backup to the Gift Processing Coordinator
Manage a select portfolio of major donors that relate to grant funding and planned giving
Support team strategy for giving solicitations throughout the year, preparing all mail lists for direct mail efforts in coordination with the Gift Processing Coordinator
Creation and execution of development strategies and proactive timelines to support the Events and Partnership Manager through recurring events and drives
Collaborating with Senior Marketing and Communication Manager and Creative Manager on donor stewardship materials and community engagement events
Oversee impact reporting and quarterly development updates
Support of Relationship Building Committee oversee elements of "Better Together" SVDP Strategic Plan
Perform other duties as assigned within the External Relations Department
Qualifications:
Demonstrated drive for success with project management, problem solving and organizing.
Exceptional communication skills
Competence with planned giving
Strategic agility with process management and prioritization
Mission-driven leadership and passion for helping neighbors in need.
Proven success with initiating and cultivating sustainable donor relationships
Exceptional active listening skills.
Proven success with building effective teams and developing direct reports
Proficient with Microsoft Office including Word, Excel and PowerPoint
Understanding of and commitment to the mission of St. Vincent de Paul
Experience with Donor Perfect or similar CRM database, preferred
Requirements:
Bachelor's degree
5+ years supervisory experience
5+ years successful development experience
Foundation, Corporate, and Government Grant management experience
Physical Requirements: Job duties can primarily be performed from a desk using standard office equipment. Occasional requirement to lift items of 20 pounds for special events.
Travel within the Greater Cincinnati region may be required for events and stewardship of donor relationships. Fundraising events/drives may occasionally occur on evenings and weekends.
Qualified candidates are encouraged to forward a cover letter, resume & compensation expectations letter outlining their qualifications and relevant experience by Friday, December 8 end of day. Please include "Senior Development Manager Application" in the subject line of your email addressed to KLainhart@svdpcincinnati.org.
Accepting applications until end of day Friday, December 8.