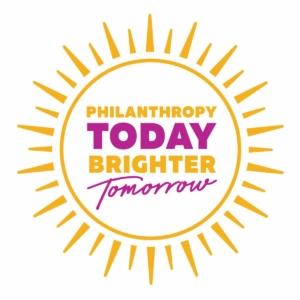 National Philanthropy Day (NPD) is a special day set aside to promote philanthropy and recognize individuals, organizations and businesses that are inspiring change through their significant impact on nonprofit organizations. Each day, generous benefactors and volunteers make a difference to people across a spectrum of nonprofit organizations from the arts to education to social services and everything in between. The National Philanthropy Day Program is our annual, signature event at which people representing businesses, nonprofits, philanthropists and volunteers come together to celebrate our vibrant philanthropic community. All nonprofit organizations have the opportunity to participate in our Honored Guest process by recognizing donors, volunteers and special friends who have made a truly exceptional impact.
Date: November 18, 2021

Time: 11:30AM to 1PM

Location: Rhinegeist
1910 Elm Street
Cincinnati, OH 45202

Award Winners… Recognizing Love Poured Out
Our Community Award Winners are local, every day people who do the extraordinary to help others. It's their selfless giving that has spurred the birth and momentum of National Philanthropy Day. We are honored to be able to celebrate their acts of love. Review a full list of our past award winners here.
Submit your nominations for Philanthropist of the Year, Volunteer of the Year, Outstanding Youth in Philanthropy, Outstanding Foundation or Corporation in Philanthropy, and Lifetime Achievement in Fundraising!
Click here for more information about each award and details on how to submit your nominations.
DEADLINE EXTENDED – Nominations due Friday, May 7, 2021.
Sponsorships
What's it like to be a sponsor?
"The Fifth Third Foundation is proud to announce our 11th year as presenting sponsor for the National Philanthropy Day hosted by the Association of Fundraising Professionals. Even though we're not together in person this year, our virtual event continues to celebrate those we honor today, share the spirit of philanthropy, and inspire us to strive for a better community for all. During this past year, and particularly the last six months, the philanthropic community has risen to the multitude of challenges presented by the pandemic. We are so honored to join AFP in celebrating the shared impact of all organizations who are working so diligently every day to make communities in Cincinnati better places for all to live, work, and thrive."
–Heidi Jark, Managing Director, Senior Vice President, Fifth Third Foundation
Honored Guests… Celebrating Our Supporters
As part of National Philanthropy Day (NPD), the Association of Fundraising Professionals (AFP) invites nonprofit organizations to recognize and celebrate individuals: donors, volunteers and special friends who support and further their missions.
How to Select Honored Guests: During the NPD registration process, nonprofit organizations may submit the names of their Honored Guests – donors, volunteers and special friends. AFP requests that nonprofits submit only Honored Guest names of people that will be attending the virtual broadcast. When guest names are entered, Honored Guest designations can be chosen. AFP will list Honored Guest names on the NPD event web page. Honored Guest names must be submitted to AFP by November 4, 2021 for inclusion in the program.
If you need assistance in entering guest names or designating which ones are Honored Guests, email us at Admin@AFPCincinnati.org.
For questions or more information, contact:
Lauren Frooman, NPD Chair, at Lauren.Frooman@CincyArt.org
Spencer Mapes, NPD Co-Chair, at smapes@cincinnatichamber.org
Admin Team at Admin@AFPCincinnati.org