News and Publications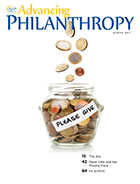 Advancing Philanthropy
AFP publishes several industry-leading publications that fundraising professionals rely upon for the latest and best news and information. A true member benefit, Advancing Philanthropy, the award-winning magazine published by AFP (four seasonal issues and one September issue), provides practical information, useful tools and other resources to help members succeed in the fundraising profession.
eWire
eWire is AFP's weekly news publication tracking trends and developments in the fundraising profession. Available to members as a member benefit, eWire examines fundraising issues as they happen, providing members insight into the most current questions facing the profession.
AFP Connect
Welcome to AFP Connect! We are excited to introduce eight new topic-specific interest communities you can now join! These are based on the most popular discussions we've tracked over the past few months during our "soft" launch. Below are the new communities – to join, simply click on a community link below, or go to the "Communities" tab, select "All Communities" an then search or filter for "Special Interest Communities" to find and join them! If your question doesn't fall into one of these new communities, then be sure to post it in the Open Forum!
New Special Interest Communities:
Boards & Volunteers
Direct Response/Marketing
Donor Relations/Stewardship
Fundraising Policies
Online Fundraising
Planned Giving
Software/Technology Recommendations
Special Events
If you have any questions or suggestions regarding AFP Connect communities, please let us know through the Contact Us form.
For Job Seekers: Whether you're looking for a new job, or ready to take the next step in your career, we'll help you find the opportunity that's right for you.
For Employers:  AFP Jobs Service is the premier electronic recruitment resource for the industry. Here, employers and recruiters can access the most qualified talent pool with relevant work experience to fulfill staffing needs.
AFP is proud to announce its new online consultants and resource directory. Be one of the first to take advantage of this great opportunity. Increase your revenue by placing your company in front of fundraising and nonprofit industry professionals worldwide.
One of the largest collections of resources for the fundraising professional.  Both members and non-members can order AFP Bookstore products.  AFP members can save an average of 10% off non-member prices.