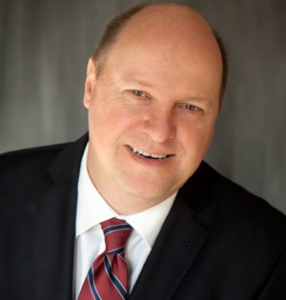 Q: What's your professional position now, and what are your responsibilities?  
I am the president and CEO of the Stollery Children's Hospital Foundation, a 150-bed children's hospital that opened in October 2001. The hospital is situated within the University of Alberta Hospital and co-located with Mazankowski Alberta Heart Institute in the Walter C. Mackenzie Health Sciences Centre in Edmonton, Alberta.  The hospital is named for Bob and Shirley Stollery, who provided the original donation that went to help with the creation of the hospital.
Q: Tell us a little about the dimensions of your job—staff, funds raised, etc.
We have 45 staff members. Our board is about 20, with five ex-oficio members as well.
We raise around 30 million a year. Very little of that—about $600,000—is investment income, so most of that amount is generated through fundraising. We have about 100,000 donors that give to us, and we issued approximately 98,000 tax receipts last year.
Q: Okay, so that's the formal, official stuff!  What do you really do?
A: What my job really gets down to is executing the strategy developed by our board of directors. Our vision and mission are easy to remember:  we will give the sickest kids the best chance, anywhere in the world, to live a long and healthy life. And we do it simply by raising money, thanking people and showing impact.
Q: Was that intentional—to make it easy as possible to remember?
I've been in a lot of different positions over the last 25 plus years. One of the things that has always stuck out to me is that nonprofits only have so many resources. Those organizations that succeed and really create impact are those that make it very easy to understand what you're doing—and have values that are easily understood and anchored in what people do every day.
I knew that I wanted to be a CEO someday. And when I was, I wanted to make very clear and easy to remember what I stood for and the values and principles that were important to me. That way, not only would people know what I stood for, but they could remember it easily and tell others. And if others can understand what you stand for—and you recruit and hire people with similar values and desires—then you're going to have more impact because everyone is going to be on the same page.
Q: Can you give us an example?
A: Sure. When I got to Stollery, there was a giant values statement. I think we had 18 different values, and a couple of them were contradictory! So I asked the founders of the foundation what they really cared about. being inclusive and giving every child a chance no matter where they lived; being energetic and pro-active in our altruism and service provision; and showing leadership—not just giving but being the first to give.
I combined those three values with my own personal values: accountability—both to yourself and holding others accountable as well; respect and how we interact with each when we have disagreements; and altruism, in that we all pitch in to help each other, no matter the job.
I put those six values together, took the first letter of each one and created AERIAL: accountability, energy, respect, inclusion, altruism and leadership. AERIAL defines our work, and it's known and understood by every board member and every staff. It's memorable and easy to understand, so donors and new staff quickly get what we're all about.
Acronyms, shorthand—these sorts of approaches are helpful because they simplify things and help us focus on what's most important.
Q: At what point did you realize you wanted to take that step into management? What has that been like?
A: It's funny but my leadership moment crystallized for me when I was talking about National Philanthropy Day. I was working as a consultant, sharing a desk with a colleague at one of our client's offices. Honestly, I was complaining about some aspect or another of our local chapter's National Philanthropy Day (NPD) celebration, and my colleague basically called me out on all my complaining. She said that she was tired of hearing about all of my ideas for changing things if I was never going to actually do anything about them, and that I should join the local NPD Committee. The message was: If you're not willing to stand up for your argument, then you don't have any legs to stand on.
For whatever reason, that moment stuck with me. I did join the local NPD committee the next year, and I ended up chairing the event and making some of the changes I had talked about—which I'm really proud of because it helped increase attendance. And it spurred me on to think, okay, if I can do that, maybe I can lead an organization too. I started putting my ideas in action, and here I am today.
Q: You were at KCI Ketchum Canada for five years. How did you enjoy that? What's your perspective on working directly for one organization vs. consulting for several?
A: Being with KCI was an amazing experience. It introduced me to a whole slew of fundraisers and sector professionals who understood philanthropy and our craft far better than me, and taught me so much more than if I was with one organization. You really understand what a profession we have, and the research and best practices and new ideas that go into our work, at a place like KCI. So many great people that I respect so much.
What was also so fascinating—and what has helped me to this day—is the wide variety of organizations you get exposed to. I had worked with arts and theater organizations previously, and now I was consulting with charities like a women's shelter. You learn new ways to communicate with and understand people, and how to demonstrate value quickly to different kinds of personalities.
The only thing that was frustrating on a personal level at a consulting firm is that you never to get to see the fruits of your labors. You never get to really experience what you helped to build and the impact it created. I wanted to own the end result and see how people were affected by my work, and that's one of the key reasons I moved on, but my experience with KCI was pivotal in my career and thinking.
Q: When you think about how fundraising has changed over the time you've been in the profession, what stands out the most to you?
For me, one of the things that has changed the most—and will continue to change—is how we do our work in representing the people we serve. It used to be that we did our good works, ran our programs and services, and that was it. But now we're looking not just at WHAT we do, but HOW we do it, WHY we do it a certain way, and how can we do it better.
I think people are finally understanding that the best ideas aren't always coming from government leaders in their ivory towers, but from the front lines—from charities working on the issues every day. And we have to figure out a way to take our ideas and not just insert them into our organizational work, but into society.
For example, we now know that if patients are closer to their homes, they recover faster. But how do you integrate that idea into hospital care, which is set in one location? Most of our infrastructure and resources are set up around our physical buildings, so we've got to start rethinking about how we deliver care. Government is way too slow to lead that—WE have to. But it's a huge process that involves all sorts of actors, including the government, so we have to develop new skills to be able to manage these sorts of projects.
Q: That sort of approach also requires a lot of trust, not just from your organization but all the other groups you'd be working with.
A: Exactly. And there's a lot of distrust and territoriality with most organizations, and I understand that. But I go back to my AERIAL acronym—energy and leadership. We have to put ourselves out there first and demonstrate that we live up to our principles and ideals.
Here at Stollery, we're looking at trying to partner with two rural hospitals in Western Canada and actually help them raise funds. Which may seem odd, but here's why I think it's a great idea. People in rural areas are bypassing their local hospitals and coming to us for children's care, which is putting a lot of pressure on our staff and resources to maintain our standards of service and care for each patient.
But if I can help those rural hospitals raise funds, develop connections with them, and build up their reputation for care, then I'm not only helping them, but I'm helping Stollery as well. Our partnership would connect their doctors to our network so everyone would be getting better information. It would free up staff and resources so we could help care for people better. We would be raising money for—and keeping money in—local communities, increasing the capacity for those organizations. And it would show that we care, that we're not just interested in getting bigger, but that the community is most important. That matters a lot to me. I really hope the partnership becomes a reality.
Q: So you're putting yourselves out there, showing that this approach can work, and hoping others follow?
A: Yes. And honestly, it's only going to happen if we can demonstrate that we can raise a lot of funds and be willing to represent the voice of our donors. But that's how we're going to show we can do this and drive change. It means working collaboratively with a lot of organizations, including government, and sometimes being willing to challenge the status quo.
Q: Speaking of collaborating and getting everyone on the same page, you've got a large staff, and you spend a lot of time managing people. What are your challenges related to managing such a large group of people?
A: First, I think it's important to be comfortable delegating. I think it's impossible to manage so many people and be a "control freak." And going back to my earlier comments about recruiting staff and our organizational principles, when things go wrong, I know I have a staff who believes in the things I do. I know they're going to make the right decisions because we share the same values, and they have the resources to do what it takes to solve problems.
I worry most about how our middle managers work with their teams. I realize a lot of organizations don't have the scale to hire middle managers like Stollery does, but I think some of the lessons I've learned are pretty applicable to management in any organization. Because typically our managers are good fundraisers who now have to learn good management skills.
To be most effective, I think there needs to be a blend of both formal management training, as well as creating a culture of accountability and leadership in your organization. I think sending people on leadership training is important. I think putting leadership and management factors in someone's performance plan is important. Even if you're not a manager, you still have the responsibility to manage a prospect or present at the board. Those are important actions in developing those skills. And from a board perspective, it helps our succession planning. The board is more comfortable because they know this training helps mitigate the risks involved with people leaving because we have other people ready to step up into new positions.
But even more critical is the culture you create and the little things that happen every day. I meet with every single development officer once a month. It takes a lot of time but it's very important to me. I'll have junior members accompany me on visits and projects so they can gain experience. And I do what they tell me to do—make the calls, write the letters, whatever they think is most important. That puts the onus on them to think strategically and take responsibility for their project. That sort of interaction is where you really see the growth in staff.
Q: What are you most proud of about your work at Stollery?
I am most proud of the collective work we've done in making significant changes to how children's healthcare is delivered across the province. Kids make about 250,000 visits every year to Stollery, and I'm so excited that we create an experience where they aren't afraid to visit a hospital for check-ups and follow-up appointments. When you see that on the faces of kids—and their parents—that means so much to me.
Q: What fundraising campaign do you like to talk about the most at Stollery?
There are a lot of campaigns and initiatives I could talk about but I strongly believe that philanthropy is about paying it forward. So I'm probably most excited to talk about our work in engaging kids with our philanthropy. We have put a lot of work into our resources to help kids raise money, whether it's through lemonade stands, starting their own business or accepting donations instead of birthday gifts.
We're not doing it to raise money. Many of the gifts we get are in the $10 – 15 range. But it teaches kids about why giving is so important, and hopefully they'll grow up to give, even if they don't give to Stollery. And ideally, they'll teach their kids about giving as well.  Seeing all these kids get excited about giving and philanthropy—it's easily the best part about what I do.
Q: What advice would you give to a professional fundraiser wanting to get into management and senior leadership?
There's certainly several practical things I'd suggest. Gaining financial and budgeting acumen if you don't already have it. I strongly believe in formal education, and the tracks at conferences like the AFP International Fundraising Conference are very good. Look at your management and leadership skills, and taking classes in those areas. All are definitely needed.
But I think it's also very critical that you understand yourself, have a plan and practice patience. There's a saying that we overestimate what we can do in six months, but we underestimate what we can do in five years. It's critical that you have a long-range plan about where you want to be and be patient with your progress.
I wanted this job at Stollery ten years ago. But to get it, I knew I needed to change my focus. So at the charity I was working for at the time, I asked for the responsibility to manage people—and got it. I went back to school to get my MBA at age 39. I had a plan, and it was very intentional and driven. But I also knew it wasn't going to happen in a year. So stay focused and be patient.
Q: How do you stay engaged with AFP?
I was chapter president of the Edmonton Chapter for four years and involved with the executive team for about a decade all told. With my current position, I don't get to as many functions and events as I used to, but I remain engaged in other ways.
I've actively encouraged my staff to be involved with AFP and have been fortunate that two staff members here have also served as chapter president. We bought a group membership for Stollery so everyone here can engage with the community. And even with my staff who aren't directly involved in fundraising, I have them take courses like the Essentials of Fundraising, so they understand the basics of our profession.
Personally, I'm very proud to serve as secretary of the AFP Foundation for Philanthropy-Canada and remain a donor to the foundation, as well as my local chapter. I try to attend events like the AFP International Fundraising Conference and Leadership Academy when I can, as I've made some amazing connections with some great fundraisers from around the world. And I admit, I do use the chapter network to "pre-scout" potential fundraising talent for Stollery. You never know when someone will leave, so it's nice to have a sense of who's out there in the local community.
Q: How could AFP better serve senior professionals?
AFP does a great job of keeping me aware of salary levels and expectations of my staff, and I use resources like our Compensation Survey and sample job descriptions all the time.
I think we need to do a better job of looking at training for members who want to get into management and senior leadership. There' so much you have to know. For example, I spend most of my time working with our board, engaging with the public, especially government and community leaders, and then helping my team with fundraising, but mostly on high-level, strategic issues. It's no longer about the nuts and bolts of fundraising anymore. I really have to know everything—from governance and finances, to long-range strategy and policy. We need more education on that level.
Q: So, IF you have any spare time, what do you do?
Spare time? Well, I am working hard to staying physically health, and am really enjoying spin class. And of course with a family—two daughters ages 12 and 10—I also have another job as the chauffeur!
I tend to focus on creative, artsy things, like painting and pottery. My kids received a soap stone carving kit, but they never opened it up. So I did one day and found I really enjoyed it. That's a picture of my latest work, a soapstone coyote (right).
But honestly, there are moments I like to do absolutely nothing. I think we can all relate to that!