Outstanding Youth in Philanthropy:  Presented to an individual, group, organization, corporation or foundation with a record of exceptional leadership and results in encouraging youth (through age 18) to:  learn about and participate in philanthropy by planning and implementing a fundraising program to benefit a specific organization(s) or cause(s); demonstrate leadership in a specific organization(s) or cause(s); serve as role models for other youth and/or encourage other youth to participate in philanthropy. The amount of time spent in service through philanthropy will be considered.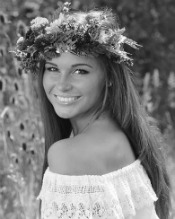 Winner ~  Katie McElveen
Nominated By ~  Ronald McDonald House of Greater Cincinnati
Katie, a student at Loveland High School, started her relationship with Ronald McDonald House five years ago and as a passionate supporter has created ways to comfort guest families with critically ill children. She created a "Greeting Card Club" for middle schoolers to create cards for families to show them someone cares. She organized a dodge ball fundraiser raising $2500. She used her love of art to create "Windows of Hope" – personalized artwork she created about each guest family to inspire them during this difficult time, which now displays 50 works of arts created by 60 students. Her dodge ball fundraiser has turned into a district wide football fundraiser, raising over $11,000. Katie is showing it's the little things we do that can make a world of difference to others in need, and she truly is an Outstanding Youth in Philanthropy.