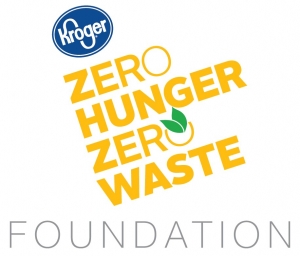 Outstanding Corporation or Foundation: Presented to a corporation or foundation that demonstrates outstanding commitment through financial support, innovation and through encouragement and motivation of others to take leadership roles toward philanthropy and community involvement. The total financial contributions and the breadth of demonstrated impact to supported organizations will be considered.
Winner ~ The Kroger Co. Zero Hunger | Zero Waste Foundation
Nominated By ~ Tender Mercies, La Soupe, American Red Cross and Freestore Foodbank
The Kroger Co. Zero Hunger | Zero Waste Foundation – Kroger's philanthropic entity dedicated to investing in a bold moonshot – to end hunger and eliminate waste by 2025 – was nominated by Tender Mercies, American Red Cross, Freestore Foodbank and La Soupe. The Zero Hunger | Zero Waste Innovation Fund, a signature program the foundation seeded with $10 million, aims to drive collective action and positive change by supporting innovators and entrepreneurs who share a passion for preventing food waste and improving food security for all. Today, 40% of the food produced is thrown away, yet 1 in 8 Americans struggle with hunger. Redirecting even one-third of this food would help feed everyone in need. Zero Hunger | Zero Waste social impact plan is our commitment to end hunger in our communities and eliminate waste across our company by 2025.