Volunteer of the Year:  Presented to an individual, corporation, or foundation with a record of exceptional generosity who:  through a devotion of time has demonstrated outstanding support to a specific organization(s) or cause(s); encourages others to support an organization(s) or cause(s); is a role model for other community volunteers.  The total hours contributed and the breadth of organizations supported with time will be considered.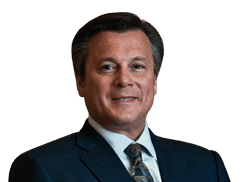 Winner ~ John A Mongelluzzo
Nominated By ~ Stepping Stones

Volunteer of the Year John A Mongelluzzo, Calfee, Halter & Griswold LLP, nominated by Stepping Stones.  Mongelluzzo joined the law firm of Calfee, Halter & Griswold in 2012 and was elected to the firm's Management Committee in 2015.  He is president of Stepping Stones' Board of Trustees and chairs its executive committee.  John also serves on the board of the Greater Cincinnati American Heart Association/American Stroke Association, is a member and past chair of its Heart Ball Events Leadership Team, and is the organization's incoming board chairman.